News
Welcome on our news and press information page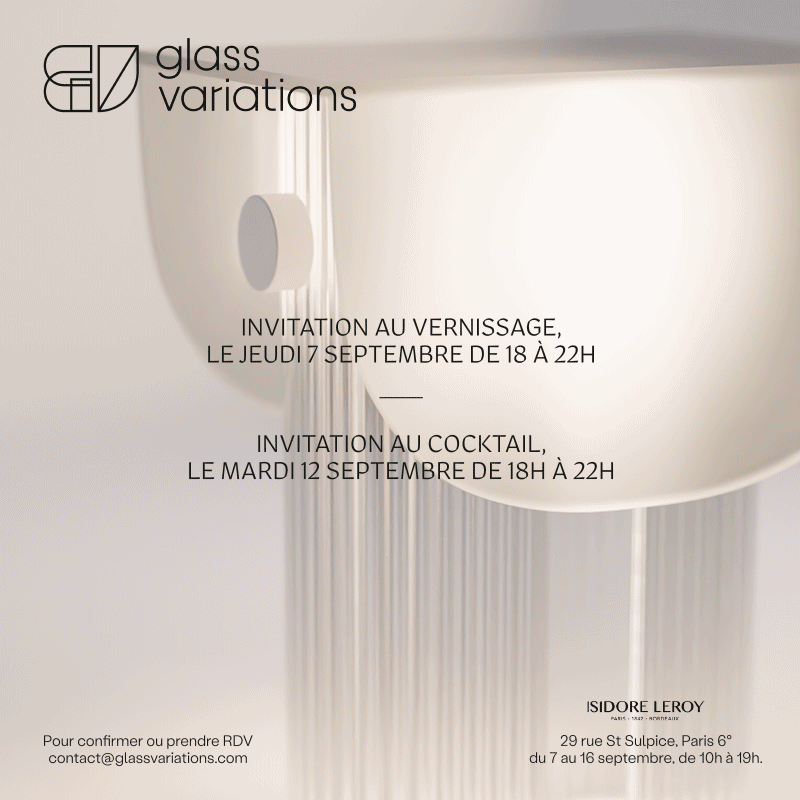 Paris Design Week
In September 2023 Glass Variations will take part once again in the Paris Design Week from 7 to 16th (10 am to 7 pm). We will showcase our latest collections in Isidore Leroy showroom , 29 rue Saint-Sulpice , Paris 6°. Come and discover the new colorful range of our HELIA table lamp and the MONOLOG invisible chair.
Opening night for all on the 7th, 6 to 10 pm
Cocktail on the 12th (send us an mail for invitation)
Go there
Presse
Please find enclosed our Glass Variations brochure and the latest Press Releases to download.
Press Contact
Sparkling Presse: Julie Boisson, julie.boisson@sparklingpresse.com
À VIVRE (Coline Jacquet) June 2023

MONOLOG table in bronze tinted glass, Glass Variations collection

Download

MARIE CLAIRE MAISON (Bérengere Perrocheau) June 2023

Bina Baitel's SUBLIME Ottoman manufactured by Glass Variations, fabric Lelièvre Paris

Download

Les Échos week-end (Noémie Barré_Sarah Braeck) April 2023

HELIA sellette in yellow glass, Glass Variations collection

Download

Le Monde Week-end (Véronique Lorelle) March 2023

Our MONOLOG shelving unit enters the Mobilier National collection. Glass Variations collection, design Exercice

Raum Und Wohnen (Christina Uttinger) summer 2023

HELIA sellette in yellow glass, Glass Variations collection

Marie Claire Maison.com Oct 2022

MONOLOG bronze glass low table, Glass Variations collection
IDEAT Mars 2023 (Ambre Savagnac,Vanessa Chenaie, Emma Pampagnin-Migayrou)